'I am inspired by this apology as an act of true reconciliation towards Indigenous Australians.'

Professor Mick Dodson, Co-chair of Reconciliation Australia
Bringing them Home (1997) was a Human Rights and Equal Opportunity Commission inquiry into the removal of Indigenous children from their families. The report found that since European settlement, systematic policies were adopted to assimilate and 'protect' Indigenous children. They were removed to missions established to teach 'European values and work habits in children, who would then be employed in service to the colonial settlers.'
Read more
These children became known as the Stolen Generations. Several of the people in this exhibition have memories of being hidden from police by their mothers to avoid being taken away. The story of Daisy Kadibil, one of three sisters who ran away from a mission near Perth to return to Jigalong in Western Australia, has been immortalised in the book and film Rabbit-Proof Fence.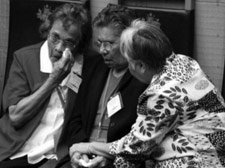 Members of the Stolen Generations comfort each other, Parliament House, Canberra, 13 February 2008.
Photo Wayne Quilliam
In Western Australia the Aborigines Act 1905, made the 'Chief Protector of Aborigines the legal guardian of all Aboriginal and Half Caste children up to the age of 16 years, enabling him to send any child to an orphanage, mission, or industrial school with or without the child's parent's permission.'
Bringing them Home recommended that a National Sorry Day be declared to make this history more widely known. On the first Sorry Day in 1998 nearly 25,000 people signed Sorry Books around the country. Ten times that number marched across the Sydney Harbour Bridge in Reconciliation Australia's Corroboree Bridge Walk in 2000.
In 2008, Prime Minister Kevin Rudd made a formal apology to Australia's Indigenous peoples for past laws and policies that 'inflicted profound grief, suffering and loss on these our fellow Australians.' This was the first time the Australian Government had formally admitted fault for previous policies and practices. The Apology was welcomed by many Australians, both Indigenous and non-Indigenous, who felt it was a necessary step in the reconciliation process.
'…for the indignity and degradation thus inflicted on a proud people and a proud culture, we say sorry.'

Kevin Rudd, 2008 Apology speech